Global Pet Expo Gear Ups for its highly anticipated 2023 Event
Global Pet Expo Gear Ups for its highly anticipated 2023 Event
The American Pet Products Association (APPA) and Pet Industry Distributors Association (PIDA) are in the final stages of preparations for Global Pet Expo 2023.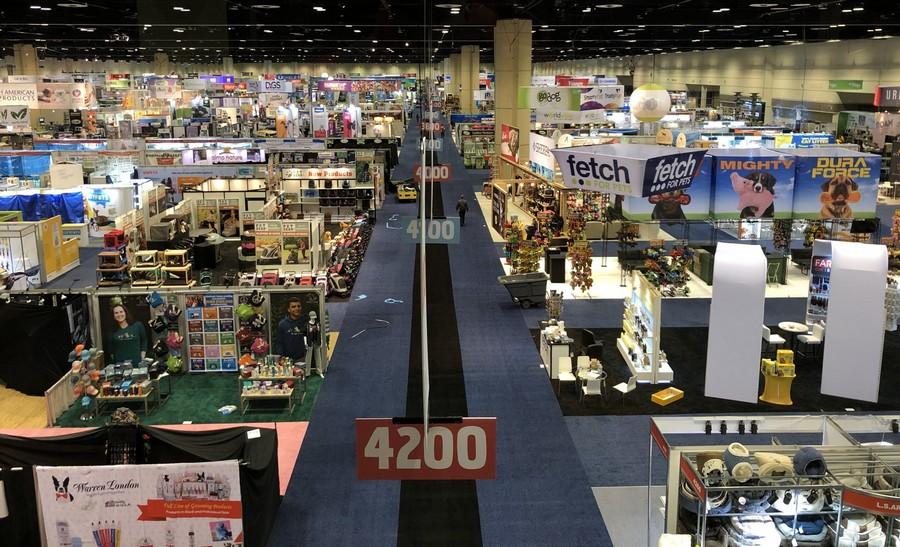 Taking place March 22-24 in the South Concourse of the Orange County Convention Center (Orlando, Florida), the premier international gathering for the pet products industry is gearing up for this year's show with new offerings, investments and innovations.
'Global Pet Expo 2023 is shaping up to be a 'can't miss' event,' said APPA Executive Vice President of Operations Bob Merar. 'It is exciting and rewarding to see how the show continues expanding to meet exhibitor, buyer and other attendee demands and expectations. I can confidently say this year's event, aptly themed 'Everything You Need,' will provide those in attendance with everything they need to succeed in our industry now and in the future.'
This year, attendees across all categories can expect new, unique experiences and offerings to elevate and enhance their 2023 show experience.
Exhibitors
New year this, Global Pet Expo has launched an Exhibitor Success & ROI Center. The program provides proven-effective expert guidance and resources to help exhibitors achieve their business objectives and deliver measurable, financial value. First- and second-time Global Pet Expo exhibitors also have direct access to information and presentations provided by the nation's leading agency that specializes in optimizing exhibitor success, from trade show planning and productivity tools, to budgeting, tips on measuring ROI and more.
'Our goal is to make smart investments that have a direct and lasting impact on our members' businesses and shape their success,' said APPA Vice President of Trade Show Management Kate Stewart. 'We are confident this program will help our exhibitors achieve an ROI that is unmatched in the industry.'
Exhibitors debuting a new product at Global Pet Expo 2023 can enter the New Products Showcase, featuring hundreds of the latest products and designs hitting the market this year and a chance to be named 'Best in Show.' Buyers vote for the best new products across nine categories. Winners are announced at the 'Best in Show' Awards ceremony, garnering attention from attendees and media across nine product categories for additional product visibility and recognition.
This year, the Global Pet Expo team also debuted a new influencer program to increase show attendance from qualified pet industry influencers. This new program aims to build Global Pet Expo's influencer network while helping exhibitors establish and build relationships with influencers to help reach their target audiences.
Buyers
Global Pet Expo 2023 is well positioned to help buyers find the right products to meet the needs of their customers. In fact, 91% of buyers who attend the show recommend it to other product buyers. From the New Products Showcase with hundreds of debut products to specialty areas of the show floor, show-only specials, and more, there are ample opportunities for buyers to maximize their merchandising and grow profits.
New for 2023, Global Pet Expo is hosting a First Time Buyer Orientation on Wednesday morning to share tips and best practices on optimizing time on the show floor and identify "can't miss" opportunities to maximize the buyer experience at Global Pet Expo. In addition, buyers can connect with other buyers – whether new or returning – in the Buyers Lounge, conveniently located in the middle of the busy show floor.
Global Learning Series
Free for all registered Global Pet Expo attendees, the Global Learning Series delivers over 40 hours of educational content developed for retailers, distributors, exhibitors and special interest groups in the pet care community. From classroom settings to quick, 15-minute presentations on the New Products Showcase 'Spotlight Stage' and retail tours in the surrounding Orlando area, the Global Learning Series provides immersive education for all types of learners and learning styles.
Networking
Global Pet Expo offers many networking opportunities throughout the week, including Retail Market Tours, a Pet Influencer Event, an Opening Night Welcome Reception, and more. Whether you are a first-timer or veteran, networking events help attendees realize success and get the most out of their show experience.
For registered attendees, the Show Planner are is accessible on-the-go using the Global Pet Expo Mobile App, available for download via the App Store or Google Play App Store. For more information, visit globalpetexpo.org and follow us on Facebook, Instagram, LinkedIn, Twitter, YouTube and TikTok.
ABOUT THE AMERICAN PET PRODUCTS ASSOCIATION
The American Pet Products Association (APPA) is the leading trade association serving the interests of the pet products industry since 1958. APPA membership includes nearly 1,000 pet product manufacturers, their representatives, importers and livestock suppliers representing both large corporations and growing business enterprises. APPA's mission is to promote, develop and advance pet ownership and the pet product industry and to provide the services necessary to help its members prosper. APPA is also proud to grow and support the industry through the following APPA Gives Back initiatives: Pets Add Life (PAL), the Human Animal Bond Research Institute (HABRI), Tony La Russa's Animal Rescue Foundation (ARF) Pets and Vets Program, the Pet Industry Joint Advisory Council (PIJAC) and Pet Care Trust and Pets in the Classroom. Visit AmericanpPetProducts.org for more information, and follow us on Facebook, Instagram, LinkedIn, Twitter and YouTube.
ABOUT PET INDUSTRY DISTRIBUTORS ASSOCIATION
Pet Industry Distributors Association (PIDA) is the premier trade association representing the interests of pet product distributors since 1968. The mission of PIDA is to enhance the well-being of the wholesaler-distributor, to promote partnerships with their suppliers and customers and to work cooperatively with other organizations in fostering the human-companion animal bond. PIDA is also proud to grow and support the industry through the following initiatives: the Human Animal Bond Research Institute (HABRI), Pet Industry Joint Advisory Council (PIJAC) and Pet Care Trust and Pets in the Classroom.
by Blobal Pet Expo
Source: All Pet Food