Understanding Explosion-Proof Vacuums: What Sets Them Apart?
Understanding Explosion-Proof Vacuums: What Sets Them Apart?
There is a constant risk of a potential explosion in hazardous locations that handle flammable dust and combustible materials. In these risk-prone areas, only an explosion proof vacuum cleaner can clear dust and debris, flammable and combustible materials safely without becoming an explosive hazard itself.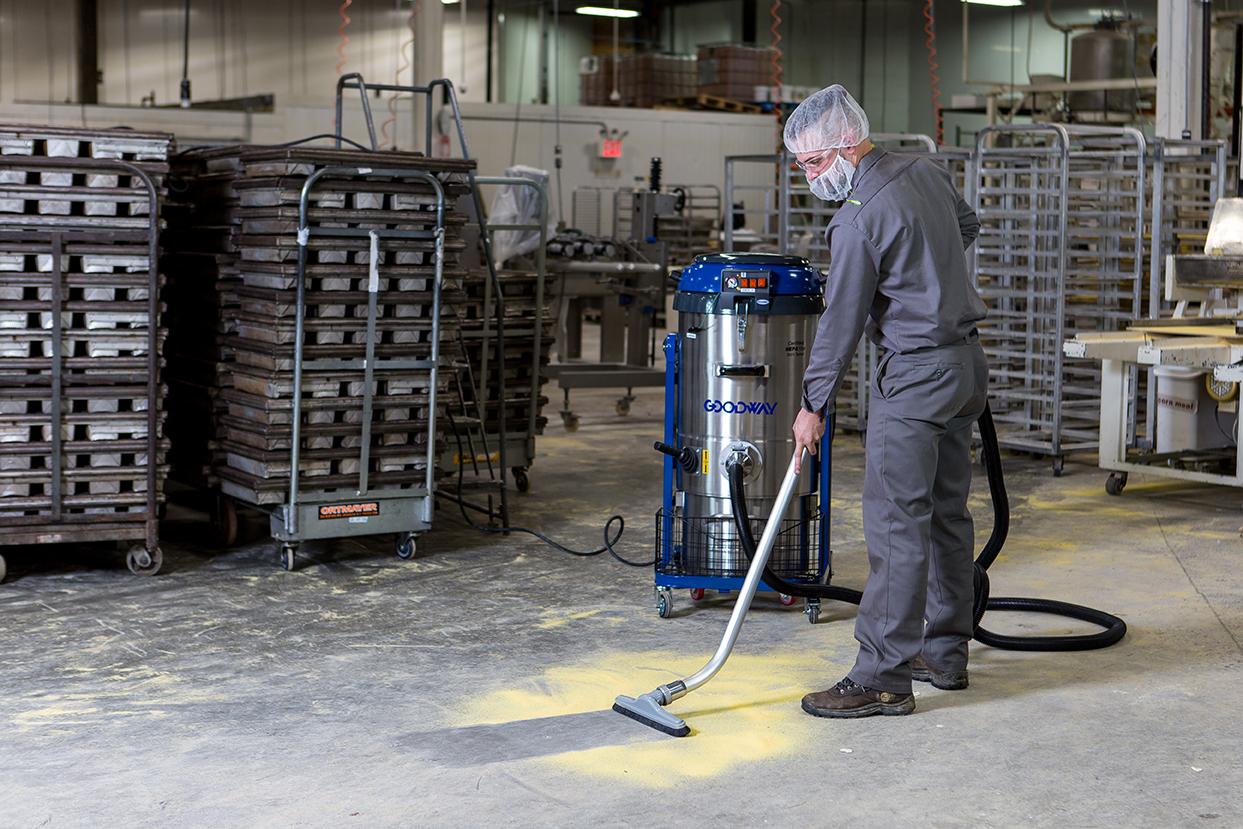 Not all industrial vacuums are explosion-proof. Only an industrial vacuum certified as explosion-proof is designed to prevent and contain explosions in potentially hazardous environments.
It is vital to know how explosion-proof vacuums differ from other industrial vacuum designs. Knowing these things will help you select the right vacuum for your application, whether the vacuum will be used in a chemical, pharmaceutical, food processing, or manufacturing plant.
How Do Explosion-Proof Vacuums Differ From Other Industrial Vacuums?
Both industrial vacuums and explosion-proof vacuums can be used for industrial purposes. But only explosion-proof vacuums can be used for potentially hazardous environments.
Industrial vacuums have unique features and components to operate in industrial environments safely. But explosion-proof vacuums have the following features besides those found on most industrial vacuums:
Explosion-proof motors are sealed to prevent sparks and constructed out of materials that can withstand high temperatures and pressures.
Grounding and bonding systems prevent the buildup of static electricity, which can cause sparks and trigger an explosion.
Hoses and accessories are made of conductive materials that prevent static electricity buildup.
Explosion-proof filters are designed to contain combustible materials and prevent sparks.
Explosion-proof vacuums are also certified to specific safety standards through Underwriters Laboratories (UL), CSA Group, and ATEX. A vacuum with these certifications meets exacting safety standards for safe use in potentially hazardous environments.
What are Explosion-Proof Vacuums Used For?
Prevention of fire and dust explosions is a serious concern in various facilities. Industrial environments are often at risk for combustible dust explosions, especially in the chemical, pharmaceutical, food processing or manufacturing industries.
Dust explosions can kill workers and destroy facilities. The Imperial Sugar Company had a dust explosion in 2008 that resulted in 14 deaths and dozens of injuries. The tragedy drew attention to the destruction possible when combustible dust builds up.
Most industrial dusts are dangerous, whether it is flour or sugar dust generated in food processing or chemical dust produced during manufacturing. It's vital for maintenance technicians and building operations managers to inspect for dust buildup regularly, clean equipment at regular intervals, move dust collections outside, and use only vacuum cleaners approved for dust collection in hazardous environments.
Explosion-proof vacuum systems clean up explosive or flammable materials safely without causing hazardous materials or dust to ignite or explode. They are commonly used in industrial settings with chemicals, combustible dust, or other hazardous materials present.
Keeping things clean, controlling ignition sources, and performing regular preventive maintenance are important steps to reduce the risk of dust explosions. But it is equally vital to inform and train all employees working in the area about the safety risks of combustible dust, hazardous chemicals, and other flammable materials.
All personnel have a role to play in mitigating explosion risks. Maintenance personnel need training in the proper use and maintenance of equipment. Managers must be ready to enforce safety policies and procedures. Safety personnel must understand the potential dangers of crafting sound safety policies and procedures. Keeping a plant safe from these hazards is everyone's responsibility.
What Facilities Need an Explosion-Proof Vacuum?
Many facilities need an explosion-proof vacuum. Some common applications include:
Food processing plants where dust and other combustible materials are present.
Chemical and pharmaceutical plants that handle hazardous materials.
Manufacturing plants that use chemicals and substances in the manufacturing process.
Refineries and oil rigs which deal with flammable gases, liquids, and other hazardous substances.
Laboratories that use chemicals, solvents, or other flammable substances.
Different Uses and Applications for Explosion-Proof Vacuums
The applications for explosion-proof vacuums are as diverse as the industries that use them.
In a food processing facility, these vacuums may clean accumulated dust from food processing equipment, such as mixers, grinders and conveyors. These vacuum systems also can clean plant floors and surfaces, as well as storage and packaging areas.
At a pharmaceutical or chemical plant, an explosion-proof vacuum can remove powder and dust from production areas and equipment and clean lab areas where hazardous materials generate dust and debris. In chemical plants, these vacuums can safely remove dust and debris from reactors and vessels used to mix and store chemicals.
Manufacturing plants and classified environments alike can use explosion-proof vacuums to clean production equipment, such as lathes, mills and grinders, which accumulate dust and debris during production, even in hidden areas. They also can clean plant floors and surfaces, storage locations, and shipping and receiving areas.
In oil refineries and on oil rigs, explosion-proof vacuums can remove dust and debris from heavy machinery and equipment. The vacuum systems can also clean facility floors and surfaces.
Laboratories use explosion-proof vacuums to remove hazardous materials, chemicals, and powders. This includes cleaning lab equipment such as fume hoods, biosafety cabinets, and cleanrooms which can accumulate hazardous materials or dust during experiments or testing. The vacuums can also clean lab floors and surfaces, as well as chemical storage and hazardous waste areas.
Next Steps
Goodway Technologies offers a complete line of explosion-proof industrial vacuums to pick up hazardous dust and other materials with various chamber and tank sizes. These vacuums are certified by various organizations and are available in wet capacity and dry capacity explosion-proof configurations.
Both electric and air-powered models are available. Vacuums with HEPA filtration are available. Vacuums designed for heavy-duty applications are available. Goodway's in-house experts can visit your facility to assess your equipment and determine which explosion-proof vacuum will deliver the best results for the application.
By: Goodway Tech