The leading Extrusion Seminar in Pet Food and Aquaculture is Back
The leading Extrusion Seminar in Pet Food and Aquaculture is Back
Extru-Tech states that after all these years of pandemic, the seventh version of its renowned THEORETICAL-PRACTICAL EXTRUSION SEMINAR IN PET FOOD AND AQUACULTURE is back, focused on both industries in constant growth.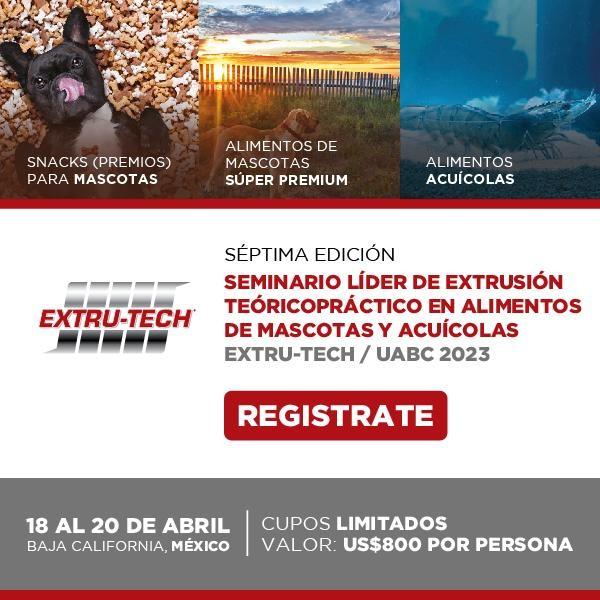 In conjunction with the Universidad Autónoma de Baja California, Extrutech is ready to offer a in person seminar of high academic value. The seminar will count with theorical and practical activities which will be announced in due course that same day, and are included within the contract.
The seminar will be held at the Hotel Coral and Marina, located at Carretera Tijuana-Ensenada Km. 103 N.° 3421, Zona Playitas, 22860 Ensenada, B.C., México, (a few steps from the UABC Pilot Plant).
The Hotel offers preferential rates, exclusive for those attending the seminar, prior reservation providing the code: "Extru-Tech Seminar 2023".
These RESERVATIONS can be made until Friday, March 17th and are subject to availability. All seminar attendees must be duly registered in advance. Spaces are limited! So, we invite you to contact your Coordinator Isabel Gajardo if interested on attending
About Extru- Tech
Founded in 1985, Extru-Tech® has installed numerous extrusion systems worldwide designed for the production of human food, pet food, aquatic feed and animal feed products. Extru-Tech® also maintains the reputation of supplying the extrusion industry with superior quality replacement parts.
Extru-Tech® currently produces and markets one of the industry's most complete lines of extrusion processing systems. In addition, they offer a full line of ancillary equipment and customized equipment solutions for specialized processes
To know more about Extru- Tech we invite you to visit the company´s WEBSITE.
Source: All Pet Food