Famsun SJPS Series Twin-screw Extruder
Famsun SJPS Series Twin-screw Extruder
FAMSUN Group Co. Ltd., headquartered in Yangzhou, China, is a global technology partner and the integrated solution provider of plant, equipment and services in feed manufacturing, grain milling, grain handling and storage, oilseed processing, food processing, steel structure construction and industrial automation.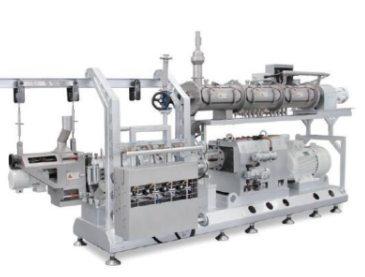 FAMSUN Pet Food division is committed on machinery research, manufacturing, project engineering, factory construction and integrated solutions in pet food industry, create values for customers. As a leading integrated solution provider in pet food industry, FAMSUN undertakes pet food (dry food, semi-moist, extruded treats) and cat litter turn-key project.
FAMSUN leads the market by technology, with experienced elite team and European & USA technical experts, through continuous innovation, to provide customers with professional, safe, systematic extruded pet food production solutions, customized environment-friendly and intelligent factory with high standards, high quality, high efficiency. They won the trust and praise from their partners/customers worldwide.
The SJPS SERIES TWIN EXTRUDER is one of the highly efficient pet food extruders in Famsun's portfolio. Specially designed for formulations with a high content of fresh meat, we detail some of its advantages for pet food producers:
Easy operation
PLC and touch screen for convenient control; by-pass provided for avoiding blockage; easy operation, precise and reliable.
High efficiency
Optimal chamber groove and screw flight profiles, minimum SME input; efficient DDC conditioner and jacketed barrel with stabilized and facilitated extrusion, maximum energy utilization; unique suspending cutter, adjustment without down time.
More flexibility
Modularized barrel and screw structure with many add-ons, adaptable to varied high-fat or -moisture formulations; controllable temperature, pressure and density, minimizing reconfiguration acquired.
You are invited to know more about FAMSUN PRODUCTS.
Source: All Pet Food