PROMAS ST, future proof automation
PROMAS ST, future proof automation
KSE is the global supplier of PROMAS ST process automation software. Process and automation go hand in hand just as well as the production must run day and night.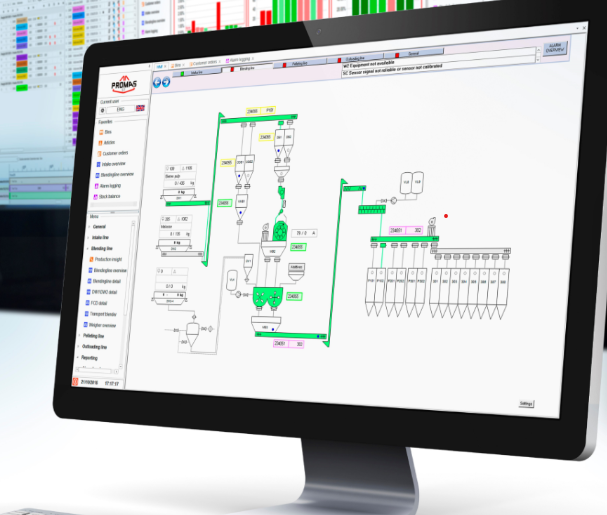 This process automation control system is based on years of expertise and knowledge of the production processes, in the animal feed and food industries. This means that the design has been thoroughly tested in practice.
Therefore, you can be assured that the process automation system provides all the functionalities to automate business processes adequately. Of course, the design is robust and flexible, making it last as long as the machinery. PROMAS ST factory automation software is developed from the operator's point of view.
KSE PROMAS ST future-proof process automation technologies grows along with a factory. Due to its flexibility, this automation solution will last for years to come. If a factory or machines must be renewed or updated, it is possible to implement adjustments with PROMAS ST process automation technologies, in small and profitable steps.
Expensive investments in new automation systems are therefore a thing of the past. Small-scale activities can also benefit from PROMAS ST process automation technologies. Start small and when the system grows, the investment can be spread over a longer period.
PROMAS ST process automation technologies is a flexible solution for production automation and it is ready for the future. In other words, PROMAS ST is a flexible solution for plant automation that is ready for tomorrow's challenges.
How automating manufacturing processes will bring you peace of mind?
KSE's PROMAS ST software for automating manufacturing processes brings performance improvements and cost benefits to the animal feed and premix/mineral industries. Nearly 50 years of KSE's specialized know-how in the animal feed industry is encapsulated in this software. This means your equipment (including third-party machines) will perform as intended and, often better than you expected. Automating manufacturing processes with PROMAS ST will get you more tons out of your production line and a better-quality product. All performance indicators can be viewed from anywhere in the world.
This brings you peace of mind! PROMAS ST is also hardware and software independent, so you get a better return on investment.
PROMAS ST factory automation software is developed from the operator's point of view. KSE´s aim is to create a future proof and intuitive platform that gives operators the insight and control they need to run a seamless operation.
This software transforms data into visual and actionable information, so that operators can maintain a clear overview of the production process. We have automated tasks that were repetitive and made complex processes transparent with clear visuals and reports.
Timely alarms ensure operators are aware of tasks that require attention and ensure you are a step ahead of potential delays. Otherwise KSE´s 24/7 remote support service is ready to tackle any problem.
KSE through the years
Over the years, KSE has specialized in dosing and weighing systems and smart automation software for the animal feed industry. They are clearly focused on continuous innovation, which is passed from generation to generation. Personal contact, excellent service and a passion for the powder and granulate processing industry are key. This has helped them grow from a small company to an international business with activities worldwide. KSE is celebrating its 50th anniversary.
For more information, visit KSE´s website.
Source: All Pet Food